Clinipol Holdings Ltd.
Clinipol is the parent company for three daughter companies responsible for producing high quality precision moulded polymer components for sectors of Healthcare, Maritime, Aerospace and Printing Systems.
Health Care
UK based sub-contract manufacturer of high quality precision moulded polymer components used for healthcare products and applications.

Clinipol holdings Ltd. acquired Mowtec Elastomeric Components Ltd in the year 2000, in 2006 it became an independent business simply entitled Mowtec Ltd. Mowtec's primary focuses are in the aerospace, maritime and printing sectors.
Aerospace
Supplying some of the leading OEM's in the aerospace industry including Eaton, GE Aviation, Honeywell and Meggitt.
Maritime
30 years of successful manufacturing has enabled Mowtec to develop processes and skills required to produce critical sealing solutions for over and under water systems.
Printing
O-ring and gasket technology providing longevity and superior performance in both simple and complex printing systems.
 CPT – (Clinical Polymer Technologies)

In 2006 several specialist businesses were acquired and reformed into Clinical Polymer Technologies Ltd. The company creates niche medical products utilising clean room environments essential for pharmaceutical and electronic components.
Silicone Rubber Moulding
The original backbone manufacturing process operated from the company's inception. CPT has a quality system accredited to ISO 13485-2016; the present facilities on site make it possible for the company to product niche products for several contamination free sectors.
The Complete Package
It is a proven belief that being able to provide the customer with a turn key solution is essential, by working closely alongside key customers, CPT is able to develop new, bespoke products. Working in partnership this way has created longevity and loyalty for many customers spanning two decades.

Formed in 2004, the medical device innovation centre (MEDIC) is located at the Clinipol Whitick business park site. MEDIC provides a highly important research and development service as well as a focus on medical device assembly.
Assembly
All assembly work is completed within ISO 8 Class K (100,000) cleanrooms.
Manufacturing Processes
Concentrating on applications for the healthcare sector, featuring detailed scrutinization of chemical processes and associated manufacturing procedures.
Product Design & Prototyping
Covering aspects that include 3D design and modelling, surface technologies, materials development, packaging, regulatory support and documentation and prototype production.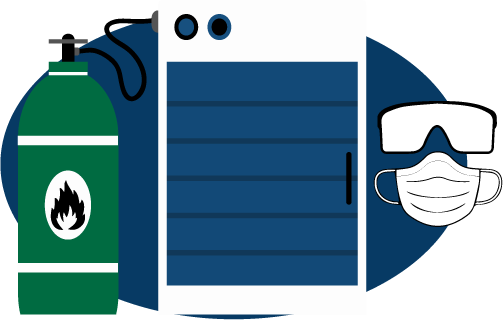 Due to the sensitive applications that CPT products are used for, it is essential that items are sterilised in order to comply with control standards for issues of safety and contaminate elimination.
With clean room environments it is possible to remove macro particulate contamination to support purity of the manufactured components. In addition to this, Clinical Polymer Technologies have the means to eliminate microbial contaminants through a selection of sterilisation processes including Ethylene Oxide, Bioburden and Gamma irradiation.
Finished, sterile products are only ever sent direct to the customer from CPT.
Reaching out to us is easy
There are lots of brilliant ideas locked up inside the minds of people all around us, we welcome the approach of new and established customers who would like to discuss project feasibilities.

A Business In Parallel With Clients
Often clients need the facility to work in low-volume trials with new materials and sometimes specialist tooling. Being involved at the inception stage and through the design process provides a flexible long view for investment on projects and generates a 'can do' approach that appeals to customers.
Accelerated Production Turnaround
When the moment arrives for a product to go into production, the company has the logistical capabilities to upscale the process encapsulating elements such as assembly, printing, packing and sterilisation and inspection. Being able to perform all of these steps enables a much quicker output, saving time and finance to the client.